So, we've established that reading to kids is important.
Reading can be so inspirational to children . Remember Reading Rainbow? Why not create an environment where your own children will love reading. Create a book corner in your living room or a special book basket !

Whether we spare 30 minutes a day or 1 hour per week – the time we choose to spend in helping our kids love to read is probably among the best investments we make towards our children's future.
That said For each month in 2010 I will be offering "Books of the month" geared towards special holidays or just some simple favorites. I hope you will find them helpful as well.
This months book selections are: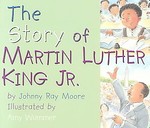 An easy-to-read biography of Martin Luther King, Jr. and his impact on society.


A biography of a self-taught scientist who photographed thousands of individual snowflakes in Vermont!